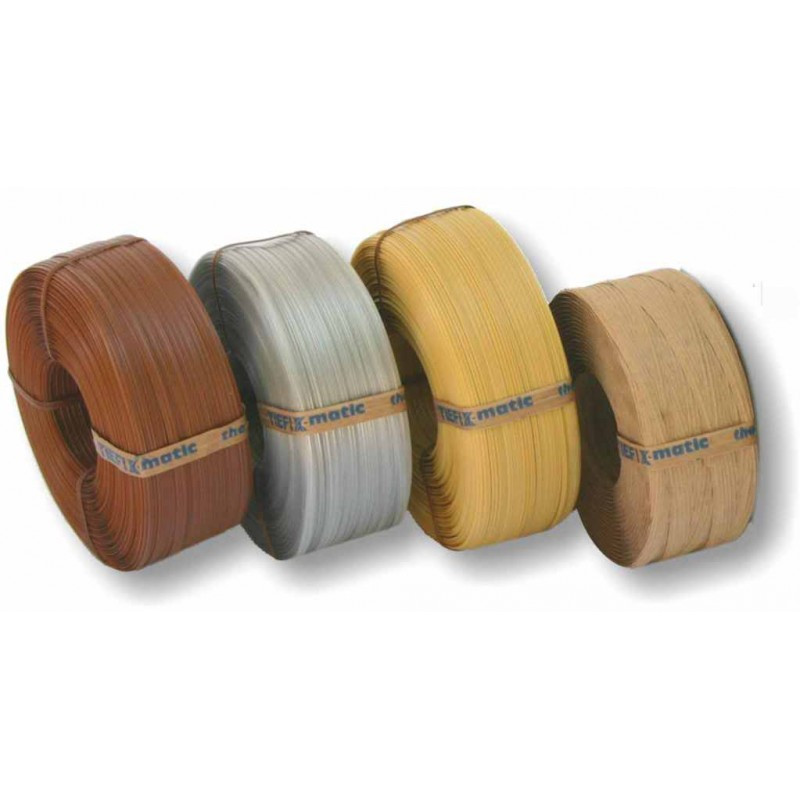  
TIEFIX-matic™ for Pellenc™ electronic shoot-tyers
for  Pellenc™ electronic shoot-tyers
TIEFIX-matic™      
The original TIEFIX-matic for electronic shoot-tyers (Pellenc Fixion™, AP25 and compatibles) is the tie-ribbon on which the AP25 tyer has been developed and thoroughly tested. It's that same ribbon that has been distributed for years by all Pellenc™ exclusive distributors worldwide.
Today, an unmatchable range of 13 types (nobody makes that many!) is available from all TIEFIX salespoints worldwide to provide you with the best ribbon at the absolute best price. TIEFIX-matic is a special reformulation of the famous TIEFIX tie ribbon introduced by General Plastics in the 60's and guaranteed since then.
The TIEFIX-matic reels, the sole officially authorized by Pellenc™ for years, are known to be extremely reliable and inimitable for this challenging application. The special extruded profile of the plastic ribbon prevents unwanted decouplings and frayings, so assuring a jamless feed of the machine and reliable bindings.
A new expanded range is now available at unbeatable prices: plastic and paper 200 m., 300 m., 400 m. reels and...  The very NEW 500 m. JUMBO Dispenser, for a non-stop full workday saving you 30% on tying costs (go to the relevant page).
And now, the new 2k-Super paper allows you to apply 100% biodegradable ties even under heavy rain.
Only TIEFIX-matic offers you all this!     
An original product made in Italy, available at all TIEFIX salespoints worldwide to provide you with the best ribbon at the absolute best price. Can´t find it near you?  Buy it here the special trial offer of the main 3 types:
- "STANDARD", brown plastic, for long-lasting tyings (one year and more)
- "BIO", transparent photodegradable plastic, for degradable tyings (8-10 months in average weather conditions)
- "PAPER", biodegradable light-brown paper, for 100% biodegradable tyings (6-8 months in average weather conditions)
Click click pictures below and watch videos about using TIEFIX spools and Jumbo dispensers with a Pellenc tyer:
TIEFIX-matic - Tie ribbon for Pellenc AP25, Fixion and TIEFIX-HD tyers
Please visit TIEFIX.com to go deeper into TIEFIX e BANDOFIX

Prices listed on this e-shop are net of shipping costs, which will be calculated and added before the end of the ordering process. You will be able to cancel your order anytime before payment.
No customer reviews for the moment.