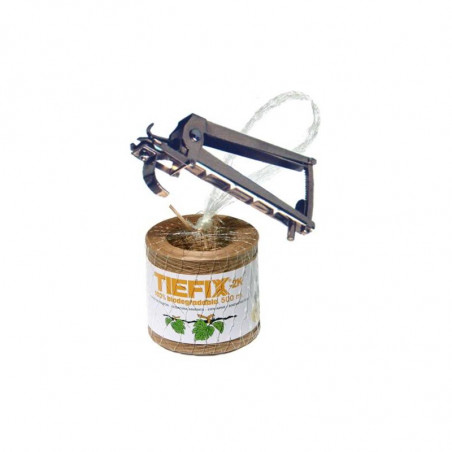  
TIEFIX-HD plyers 3.0 & TIEFIX-2K biodegradable twist-tie ribbon
TIEFIX-HD

plyers 3.0 & TIEFIX-2K biodegradable twist-tie ribbon
TIEFIX 

-HD

 ™ v. 3.0 semiautomatic tying plyers   NEW !!!
+ TIEFIX™ biodegradable tying ribbon FREE

 

                                               
Semiautomatic tier for vineyards, orchards and fruit trees.
You may have seen it around but couldn´t find it in shops near you. Here you can buy our great BUY & TRY special offer!
The TIEFIX -HD™ v. 3.0 tying pliers cut and tie TIEFIX ribbon to your vines or fruit trees with a single movement. Your tying speed will be 20-30% faster and less fatiguing. The new 3.0 type is even more performant, applying 3 turns to the TIEFIX ribbon compared to 2 turns of the previous models. More performance, SAME PRICE!
TIEFIX-HD plyers cut and tie with TIEFIX ribbon coming out from TIEFIX rolls, which you can buy at TIEFIX salespoints wordwide and easily hang to your belt for easy transportation.
Click the picture below and watch a video about TIEFIX and HD3 tyer in action:
TIEFIX is the best tie for vineyards and orchards since 1952, a unique "best product" at the very best price!
And with TIEFIX-2K 100% biodegradable ribbon, offered here, you save 4 times: 1 - you save your money as it is the least expensive agricultural tie in the market; 2 - you save your tying time because you can tie much faster; 3 - you save more time after harvesting because the degraded tie falls in the soil by itself or with a simple pull: no need to cut and dispose of it; 4 - you preserve the environment: no more toxic residuals in your soil as it biodegrades completely!
An original product made in Italy, available at all TIEFIX salespoints worldwide to provide you with the best ribbon at the absolute best price.
Can´t you find it in shops near you? Well, here you can purchase a buy & try special offer here at TIEFIXShop!
Here you can buy TIEFIX-HD pliers with TIEFIX-2K ribbon FREE in 2 packages:
sampler package with 1 TIEFIX-HD pliers + 1 TIEFIX-2K paper 250 m. roll FREE (1.500 ties approx.)  

regular package with 1 TIEFIX-HD pliers +10 TIEFIX-2K paper 500 m. roll + 2 rolls

FREE

(35.000 ties approx.)  



package of 8 TIEFIX-2K paper 500 m. roll + 2 rolls

FREE

(30.000 ties approx.)    

package of 16 TIEFIX-2K paper 500 m. roll + 4 rolls

FREE

(60.000 ties approx.)







Please visit TIEFIX.comto go deeper intoTIEFIX eBANDOFIX
Customers who bought this product also bought:
14 other products in the same category: